Bio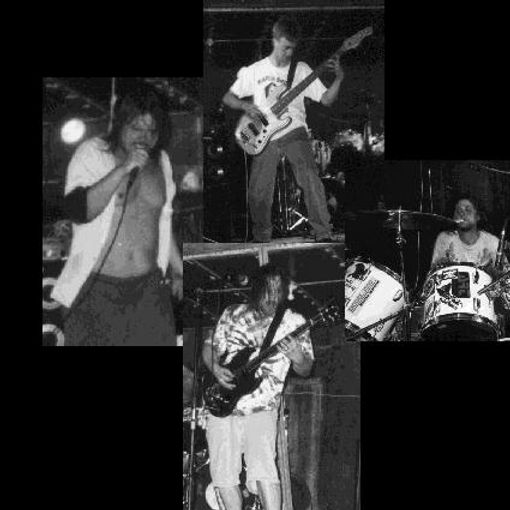 Cottonmouth® melted together in 1989 while attending Lewis and Clark College in Godfrey, Illinois. The original line up consisted of 5 members, Darren Gruen guitar, Ted Nitz aka Ted Banger bass, Eric Roberts guitar,22 Aaron Roberts drums and Denny Laird aka Johnny Bash vocals. Ted Banger and Johnny Bash had a radio show called The Mosh on 89.9fm at the college. In 1991 Cottonmouth® released a 5 song demo cassette entitled "Official Demo" which obviously received tons of airplay at the local station. 200 copies disappeared along with the original bass player leaving 4 members to record the next release "Going to Pot" in 1993.
 Cottonmouth® was hooked on writing original material and strived to create a new unique sound. "Going to Pot" featured 11 songs on cassette but was mostly known for its outrageous cover, an original photo idea that we were able to pull off in an unknown cemetery north of Medora, IL. We did obtain connections through college radio and were able to ship cassettes to several radio stations around the globe where it received airplay. We were honored when a professional German football(soccer) team used the song "Charge of the Light Brigade" as their introduction. In 1995 Cottonmouth® was voted one of the top 10 hard rock bands in St. Louis. We continued to tour the Midwestern United States briefly in support of our new release until drummer Aaron Roberts decided to leave the group.
 In 1993 local recording artist Butch McMaster III became the  drummer and the new plan was to build a studio as opposed to renting time in one in order to perfect the art of recording and save costs long term. The first studio was analog and featured a Fostex R8 as the recording device. Family time had become very important to us and we began to enjoy our time together without having to worry about recording deadlines and fat cat record producers squeezing the fun and life out of creating music by turning it into work. The everyday grind of working for the man and trying to raise a family is what inspired us. 
   In 1997 Cottonmouth® produced a 4 song demo entitled "Pipe Dreams" printed up 500 copies one at a time at the studio and gave them away at that years OZfest. Cottonmouth® received St. Louis radio airplay when their song "Space on Earth" was played on 105.7fm the Point's local show.
  The digital era was next for Cottonmouth® as we invested in a stand alone digital unit designed by Mackie... the D8B. Work began on the new CD while waiting on the 24 track hard disk recorder Mackie was designing at the time to become available for purchase.  We worked on our new writing style with improvisational experiments spun off original rhythm and counter rhythm ideas developed in the early years. Bass player and original guitarist Eric Roberts was abducted by the Greys, an alien life form, and was replaced in 1998 by long time fan  Alex Honke (yes that's his real name).
 In the late 90's we saw original clubs that featured bands similar to ours were slowly disapearing in our area and the band needed more funds to continue to promote. Inspired by the Grateful Dead fan base but not having a chemist, Butch had the idea to cater to local motorcycle clubs hoping they would be able to follow us on tour. The band hooked up with the Backdoorman MC in Alton. The group asked us to learn a few cover tunes to go along with our originals in order to play until the sun comes up. This would eventually expand our material to the point of being able to play up to eight hours.  
  Cottonmouth® continued to enjoy life not just as a band but as a family. On Oct. 14th 2001 Cottonmouth® played their final show with drummer/brother Butch McMaster III as he would die tragically on Oct. 23rd in an auto accident in which he was the passenger. We knew that Butch wouldn't want us to quit and because of our true love of music Cottonmouth® played on.  We threw together a quick compilations of songs the band had recorded while waiting for the HDR 24/96 to arrive that featured an improvisational style. We would push record and just jam for hours capturing every magic moment. The plan was to eventually do this live. In 2002 Stash Benefit  was released at the Butch McMaster benefit.
  Several drummers auditioned and a few sat in for a show now and again until the band decided on the newest member of our family, Travis Puhse. 
  Cottonmouth® features a huge selection of cover music to go along with our original material and have been known to put on shows lasting up to 10hrs. Cottonmmouth® is a favorite among biker gatherings and hemp festivals.
Cottonmouth® completed DELTA 9 tribute to Butch McMaster III in 2014 which featured 9 songs. The release was compiled from tracks left sfter the death of Butch. Some of the tracks were on analog tape that had deteriorated and had to be rebuilt. Some of those songs were originally recorded by Butch and released on the Pipe Dream demo which is unavailable. Many of Butch's family and friends had been waiting for these recording to be mixed and digitaly remastered since the time of his death. It took several years for some of the band members to reach the point to play to those tracks left behind by their long lost friend. Alex Honke took on the task of learning the ins and outs of the studio in order to complete the project. Butch was not only the drummer but also the member with the experience and most importantly the ear to engineer and produce a recording.
  The release is available at all digital download sites and under the music tab of this site. After the release the band played several shows in support. Playing live would come to an end after several break ins at the recording studios. Several times the band would announce a show and someone would take note and break in to the studio.
 Drummer Travis Puhse had the desire to learn how to operate an 18 wheeler and decided to take to the road and perfect his new found craft. This would lead to down time for the band who had always placed family first. Since it was difficult for the band to announce live shows and their was no desire to replace Travis, The band would remain on hiatus as far as performing live.
 The itch to play music would not take a hiatus however, and the band was fortunate enough to have a state of the art studio to play in. Alex Honke had spent a large amount of his life learning the art of creating audio and the studio had been built because the band enjoyed writing original music. This wasn't the first time the band had been without a live drummer. The band had learned to write drum tracks using MIDI in order to continue playing music. Alex and Bash would continue to get together about twice a week and play with MIDI files. The original plan was to create new songs for them to listen to and there was never really a plan to release this material. This would allow them to produce music that they may not have attempted otherwise. Friends of the band would continue to visit the studio and some would take home versions of these songs to listen to. One of those songs was a track called "Clowns Scare Me." It was wriiten in response to the clown craze that had developed around Halloween. Bash had remembered that years before Joe Wilson, one of Butch's adopted sons, had mentioned that he had been scared of clowns. Alex and Bash were being asked for copies of the song, so they decided it might be fun to make a video of the song.
 Alex and Bash continuted to get together on a regular basis and the songs began to pile up. Occasionaly guitarist Darren Gruen will find time from his busy family life to stop in and check out what is going on. He is excited to be jamming with his son Issac who plays guitar and has began to learn the ins and outs of his own home studio. Darren lives over 2 hours from the studio. The distance apart has taken its toll as each member continues to age. Alex has taken on a family of his own and Darren has became a proud Grandfather.
 Eventually the need for feedback on some of the material Alex and Bash were creating became important to Alex. Bash was perfectly content however just writing songs and creating what he would refer to as an audio diary. He had realized after Butch's death that by listening to some of the original studio improv sessions that he could place himself in the time frame of the recording and recall what was going on in the life surrounding the band.
 On January 2nd of 2019, the birthday of Butch McMaster 111 and of long time supporter Jody Hopper,  The band released three albums containing this material written using MIDI. Guest musicians were used to fill out certain tracks including Butch's son Justin who played drums on one track (Trails). In addition, Bash played guitar on several tracks. All the hours Alex spent layering all the different instruments and researching ways to produce sound are availlable for feedback under the music tab and can be streamed for free. The releases are also available at all digital download and streaming sites.
 In addition to creating music, Alex and Bash have been learning the art of video production and capturing live sounds. Examples of this work are available under the "Videos from Festivals" tab which is linked to our YouTube channel, Cottonmouth dot org. If you enjoy what we do please subscribe to our YouTube channel. You can also help by making a donation of any size or by making a purchase. Any money received will be used to fund future projects. If you don't have the means to do that then just leave us a comment so we can continue to be encouraged. Thanks for all your support.